Soooo many great features this week! I really whittled them down for this post, so be sure and check out the full lineup. Lots of great stuff. And it made it really hard to try and pick a single feature for today's post. I think I got a good one, though
This movie is the reason I know the difference between "libel" and "slander" (in addition to two years in J-school). "Libeled Lady" has some pretty typical 1930s characters – a wealthy, beautiful heiress (Myrna Loy, queen of the screen), a fast-talking, wise-cracking newspaper man (Spencer Tracy), a suave con man (William Powell), and everybody's favorite sharp-tongued blonde, Jean Harlow (a 1930s institution herself).
Connie Allenbury (Myrna Loy) is suing the newspaper Warren Haggerty (Spencer Tracy) works for, because it printed a story saying she was the "other woman" responsible for breaking up a famous marriage. Naturally, she denies any involvement and is suing the Star for $5 Million dollars.
Think of that in 1936 dollars, not 2014 dollars. It still is a lot of money today…imagine how unreal that sounded to a country that (the majority of which) was coming off the backside of the Depression. As Haggerty exclaims, "There isn't that much money in the world!" Anyway.
Turns out, the Star printed the story without any hard proof, and has no defense against the suit. $5 million dollars would destroy the paper. So, Haggerty calls his old friend Bill Chandler (William Powell), who's what you might call a "fixer." His job is to hook Connie into some sort of scandal. For this, they need a partner – Haggerty's fiancé, Gladys (Jean Harlow).
The idea is that Bill and Gladys will get a paper marriage, Bill will find some way to woo Connie, Gladys will file for divorce citing Connie as an involved party (you could do that back then, and after working 2 years for divorce lawyers, I kinda think they should bring it back, but anyway), Connie will lose her "moral standing" to sue the Star, and everyone gets to waltz off into the sunset like nothing every happened…except, of course, Connie Allenbury.
There are only a couple of hitches to this plan.
First, Gladys hates it. She wants to marry Haggerty, not Haggerty's friend. She certainly doesn't like being some sort of token wife that's going to get her name in the papers involved some major scandal. To keep her in on the deal, Bill starts flirting with her – not seriously, but enough to keep her distracted from her own frustrations and to keep her from spilling the beans at the wrong moment. Unfortunately for him, the plan backfires, and Gladys misinterprets his attentions as genuine, which means she may decide she wants to fight for her legally-bound husband rather than file for the quickie divorce that's essential to the plan.
The second problem? Bill finds out Connie is actually a really good person. She just happens to be mind-bogglingly wealthy. The more time they start spending together, the more his conscience starts to bother him about the entrapment. And as he gets to know her, he starts developing genuine feelings for her. And vice-versa.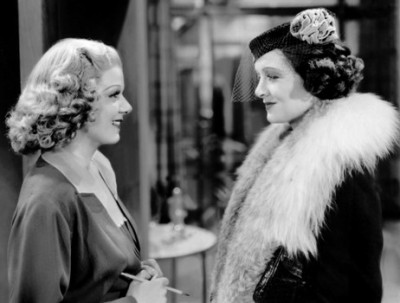 Suddenly we have Gladys deciding she's too good to be a farmed-out fiancé and wants to stay married to the man she actually married, Connie falling in love with the man who was hired to make her a permanent public disgrace, Bill trying to protect Connie while at the same time keeping the pretense up for Haggerty (who will drag him into a very public breach of contract suit if he doesn't fulfill his end of the deal), and Haggerty slowly realizing that getting his girl married to somebody else, even as a trick, probably wasn't the best game plan.
This is a fantastic comedy, and a brilliant showcasing of all the principle four's most signature skills. And Myrna Loy, my absolute favorite female star of all time, with Jean Harlow, who's #2, both showcased equally (though very different styles) and beautifully. Gotta love it. And I love Spencer Tracy in comedies. I know he gets most of his fame for dramatic roles like "Boys Town" and "Guess Who's Coming to Dinner?", and he deserves it, but he had a great sense of humor and can go toe-to-toe with Harlow's verbal punches. And you just don't get better on-screen chemistry than William Powell and Myrna Loy. You just don't.
The dialogue is snappy, the plot is actually pretty strong, and frankly it's impossible not to enjoy yourself watching this one. All four of them deserved nominations for this. I especially think it adds a fun undercurrent when you know that, in real life, William Powell and Jean Harlow were actually a couple. Their "married" sparring is even more entertaining!
"Libeled Lady" will be on TCM on Monday, February 10, at 1:00 pm CST.
Here is the rest of the lineup:
Feb 4
Best Picture Nominees 1932/1933
Lady for a Day – 7:00 pm CST
Little Women – 11:00 pm CST
Best Supporting Actor Nominee Marathon
The Story of GI Joe – 1:15 am CST
Rebel Without a Cause – 3:15 pm CST
Feb 5
Best Supporting Actor Nominees 1946
The Best Years of Our Lives – 7:00 pm CST
Notorious – 12:30 am CST
Feb 6
Best Actress Nominee Marathon
Wait Until Dark – 5:00 pm CST
Best Actress Nominees 1966
Who's Afraid of Virginia Woolf? – 7:00 pm CST
Feb 7
Best Actor Nominee Marathon
Night Must Fall – 5:30 am CST
Abe Lincoln in Illinois – 9:30 am CST
The Lavender Hill Mob – 3:15 pm CST
Life With Father – 4:45 pm CST
Best Actor Nominees 1953
Stalag 17 – 9:15 pm CST
Julius Caesar – 4:00 am CST
Feb 8
Best Picture Nominee Marathon
The Maltese Falcon – 9:30 am CST
How the West Was Won – 11:15 am CST
Auntie Mame – 4:30 pm CST
Best Picture Nominees 1949
The Heiress – 7:00 pm CST
Feb 9
Best Picture Nominee Marathon
Doctor Zhivago – 10:00 am CST
The Remains of the Day – 1:30 pm CST
Best Picture Nominees 1936
The Great Ziegfeld – 9:00 pm CST
Feb 10
Best Picture Nominees 1936
San Francisco – 9:30 am CST
Three Smart Girls – 11:30 am CST
Libeled Lady – 1:00 pm CST
Mr. Deeds Goes to Town – 3:00 pm CST
Best Original Screenplay Nominees 1940
Foreign Correspondent – 8:30 pm CST
The Great Dictator – 11:00 pm CST