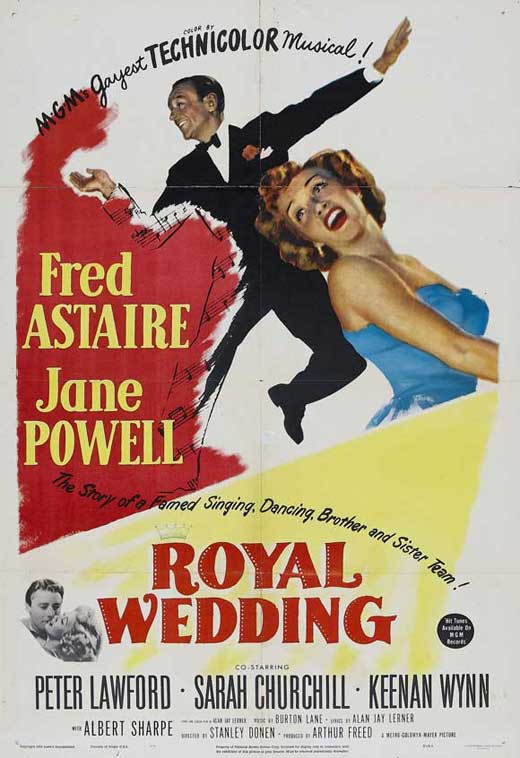 "It's a lovely day for a wedding!" The year is 1951 and the event is the wedding of Princess Elizabeth. American sibling song-and-dance duo Tom and Ellen Bowen (Fred Astaire and Jane Powell) are one of the hottest acts on the stage, and get a booking in London during the Royal Wedding festivities! Ellen is a cherub-faced maneater who goes through boyfriends two or three at a time. Tom is a workaholic and sometimes-slave driver when it comes to performing. Both are incredibly ambitious and agreed long ago to forgo serious personal attachments in favor of their careers, and head to London to make their biggest headline appearance a success.
Once they arrive in London, they quickly become swept up in the Royal Wedding atmostphere. The city and the people are all in wedding-mode, and romance is in the air. Ellen meets her match in Lord John Brindale (Peter Lawford) a titled playboy with as little intention as Ellen of being in a long-term relationship – at first. Tom becomes involved with Anne (Sarah Churchill), one of the chorus dancers from their show, who is conveniently engaged to someone else, letting Tom put off thinking about the future implications of their relationship. As the Royal Wedding draws nearer and their emotions more complicated, Tom and Ellen have to decide whether to follow their hearts or their heads before their show ends and they leave England.
I'm the first to admit, "Royal Wedding" is short of story, but greatly makes up for it with multiple musical numbers. "Royal Wedding" is primarily a vehicle to showcase Astaire and Powell's singing and dancing. They do everything from formal ballroom exhibition dance to comedic vaudeville musical routine, and everything in between, flawlessly. Some of cinema's most notable dance numbers come from this movie, including the famous scene where Fred Astaire dances on the ceiling (pre-CGI, of course).
And of course, if you're going to have singing and dancing, Astaire and Powell make a great combination. She's adorable and has a beautiful voice, and is actually a really good dancer, which I tend to forget. I think of her mostly as a singer, but really she had some dance skills. And of course, Fred Astaire, the standard in male movie dance. He dances on the ceiling, he dances on a moving stage, he dances with a hat rack…his most famous scenes come from this movie. I'd say even more famous than any he did with Ginger Rogers. And every bit just as fun. In real life, Astaire was a workaholic slave-driver famous for making his costars cry and their feet bleed from rehearsals. He demanded perfection from himself and his partners. So you can see the freedom he feels in having these scenes to perform solo, not being "hampered" by any potential missteps from a partner.
"Royal Wedding" will be on TCM on Sunday, January 13, at 11:00 am CST.
Honorable Mentions:
Gaslight (1944) – Monday, January 7, 8:30 am CST
Somebody Up There Likes Me (1956) – Monday, January 7, 5:00 pm CST
Ocean's Eleven (1960) – Tuesday, January 8, 7:00 pm CST
It's a Mad, Mad, Mad, Mad World (1963) – Friday, January 11, 7:00 pm CST
The Great Race (1965) – Friday, January 11, 10:00 pm CST
The Treasure of the Sierra Madre (1948) – Saturday, January 12, 4:30 pm CST
Anna and the King (1946) – Sunday, January 13, 7:00 pm CST