Y'all, this is a banner week(end). Clear off some space in your DVR. LOTS of winners this week.
August 20
Anthony Quinn


The Guns of Navarone (1:15 pm CST) - A team of Allied saboteurs fight their way behind enemy lines to destroy a pair of Nazi guns. (A great WWII all-star cast movie.)
August 21
Kay Francis


One Way Passage (8:30 am CST) - An ocean voyage leads to romance for a dying heiress and a condemned criminal. (Bring your tissues.)
August 22
Jack Lemmon


The Great Race (1:45 pm CST) - A bumbling villain plots to win an early 20th-century auto race. (Worst movie summary ever. Fantastic comedy set against the early 20th Century Women's Rights movement. Also starring Tony Curtis and Natalie Wood, TGR parodies silent films, westerns and costume dramas all in turn. One of our favorites growing up.)
The Apartment (4:45 pm CST) - An aspiring executive lets his bosses use his apartment for assignations, only to fall for the big chief's mistress. (I just love this movie. JL is so totally loveable.)
The Fortune Cookie (7:00 pm CST) - A crooked lawyer trumps up an insurance case for a cameraman injured at a pro football game. (I love this movie because I hate lawyers. And it's a great comedy.)
August 23
Gene Kelly


Take Me Out To The Ball Game (12:00 pm CST) - A beautiful woman takes over a turn-of-the-century baseball team. (A pretty silly musical that gives GK a chance to dance and Frank Sinatra a chance to sing. But that's really reason enough. Also starring the fabulous Esther Williams and Betty Garrett.)
Singin' In The Rain (11:00 pm CST) - A silent-screen swashbuckler finds love while trying to adjust to the coming of sound. (I really shouldn't have to sell this one to you again. Just DVR it. You won't be sorry.)
August 24
Irene Dunne


Another of my Top 5 favorite actresses. Everything she does is gold. Here are the highlights:
The White Cliffs of Dover (10:00 am CST) - An American woman with a British husband fights to keep her family together through two world wars. (Beautiful drama from the novel of the same name.)
Theodora Goes Wild (1:45 pm CST) - A woman's two lives as small-town innocent and author of torrid romances collide. (A very cute movie starring a very cute ID.)
My Favorite Wife (5:15 pm CST) - A shipwrecked woman is rescued just in time for her husband's re-marriage. (Also starring Cary Grant and Randolph Scott, ID at some of her best comedic genius. Put this at #1 on your list this week.)
A Guy Named Joe (8:45 pm CST) - A downed World War II pilot becomes the guardian angel for his successor in love and war. (Bring the tissues, but it's so worth it. ID plays a Gold Star fiance and Spencer Tracy is the fallen pilot she loved. Another long-time favorite, even before the Army was in our lives. Love love love.)
Life With Father (11:00 pm CST) - A straitlaced turn-of-the-century father presides over a family of boys and the mother who really rules the roost. (William Powell plays the title character but ID, as usual, steals the show in the fantastic turn-of-the-century comedy.)
August 25
Tyrone Power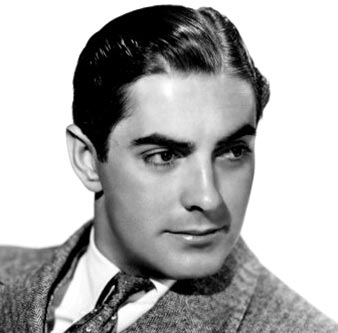 The Long Grey Line (7:45 am CST) - An Irish immigrant becomes one of West Point's most beloved officers. (I've already told you about this wonderful biopic that's really a love letter to West Point and the Army. Also starring the incomparable Maureen O'Hara.)
Jesse James (9:45 am CST) - When a railroad agent kills their mother, Frank and Jesse James take up robbing banks and trains. (This is a very sympathetic portrayal of the James gang but TP sells it.)
Witness For The Prosecution (1:30 am CST) - A British lawyer gets caught up in a couple's tangled marital affairs when he defends the husband for murder. (One of the greatest crime/courtroom/suspense dramas of all time, from the Agatha Christie novel of the same name, made with her stamp of approval. Amazing.)
August 26
Gary Cooper


Sergeant York (9:45 am CST) - True story of the farm boy who made the transition from religious pacifist to World War I hero. (Made with the real Alvin York's close oversight, a beautiful biopic, some of GC's best work. Hey homeschool moms – this is GREAT supplemental history material.)
The Pride of the Yankees (4:30 pm CST) - Baseball legend Lou Gehrig faces a crippling disease at the height of his success. (Another great biopic, and a real tearjerker.)
Ball of Fire (7:00 pm CST) - A group of professors takes in a nightclub singer hiding from the law to protect her gangster boyfriend. (How many times can I call a movie my favorite before it raises eyebrows? Because this is one of them, too. Is it because GC plays an English nerd? Because Barbara Stanwyck is a gorgeous brunette with an attitude? Because it's got one of the greatest comedic supporting casts? Who cares? It's fun!!)
Be sure and let me know which you caught!