Daphne is a precious little girl who was born with a rare genetic defect, Trisomy 18. If you don't know, Trisomy 18 means that she has three pairs of chromosome 18 rather than the normal two. Most babies with Trisomy 18 are not born live. Few ever leave the hospital.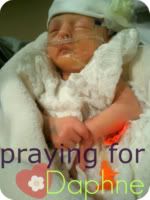 Not so with Daphne.
In what can only be described as miraculous, she is heading home with her family to live out her final hours surrounded by people who love her. This is nearly unheard of with Trisomy 18 babies, and a huge blessing for this family. To read her whole story (bring some tissues) click the button above.
First of all, praise Jehovah Rophe, God the healer, for letting this family spend time with their little girl they never thought they would have, for healing this child without surgery and giving her parents a chance to hold her and love on her.
But for a second, I want to take a step back and talk about a bigger picture. This past Sunday was Sanctity of Life Sunday, for which many churches chose to speak out and affirm the fearful and wonderful creation of human life. Yesterday was the March for Life, where over 500,000 people marched through the state capitol to stand for those who were not allowed to be born. These are the two largest pro-life events (not anti-abortion, they aren't synonymous terms) in America every year. And yes, they occur to protest legal abortion, but also to stand along side those who are born with genetic conditions and congenital defects, to state that all life is precious and special, even if in our eyes, it wouldn't be much of a life at all. Thanks to prenatal testing, Daphne's family was prepared, as much as any parent could be, to say an early goodbye to their daughter. And they still chose to meet her.
I truly believe that God is blessing Daphne and her family because of their decision to give birth to her and allow her to experience as much of life as she possibly can. She's a living witness of the healing hand of God.
She's not out of the woods yet. The doctors gave Daphne anywhere from hours to days as far as life expectancy, but she has already defied the odds, thanks to God's favor and in answer to the prayers of many.
So today, I'm joining many other bloggers asking you to share Daphne's story by putting the button below on your blog. Join all of us in prayer that Daphne will be given as much time with her parents as the Lord allows, and that her story will reach far and wide and lead people to the one true God, the Great Physician and the Maker and Giver of all good things.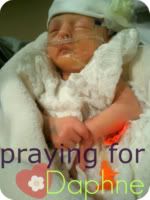 For you formed my inward parts;
you knitted me together in my mother's womb.
I praise you, for I am fearfully and wonderfully made.
Wonderful are your works;
my soul knows it very well.
My frame was not hidden from you,
when I was being made in secret,
intricately woven in the depths of the earth.
Your eyes saw my unformed substance;
in your book were written, every one of them,
the days that were formed for me,
when as yet there was none of them.
~ Psalm 139:13-16