How awesome is this, y'all??
I've been wanting to get a new blog design for months but just haven't been able to pull the trigger for one reason or another. A new year seemed like the perfect time for a facelift! (Not to mention some extra Christmas money ;))
As usual, I could look nowhere but
Dirt and Lace Designs
. I love, love, love Stephanie and her style, which is professional, personable and versatile. And patient! I took forever to make up my mind about all my elements, not to mention the hours I spent agonizing over which theme to choose. Thanks so much to dear
Brianna
for helping me there! And I changed my mind over and over throughout the design...let's just say, Stephanie is a saint!
BTW, Stephanie also just completed Brianna's new blog design as well. Click the button below to see. I'm not sure whose I like better, hers or mine! I'm serious!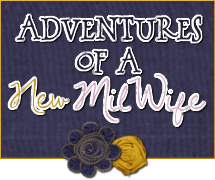 I cannot be happier with my new facelift! (And I'm pretty sure I'll be getting a new coordinating Twitter background before too long, too!)
If you want a blog design you will love, head over to Dirt and Lace Designs!