Originally posted at drifts into randomness
If you follow me at all, you know about my love affair with Turner Classic Movies and classic movies in general. So I thought I'd give you my Top 5 favorite must-watch movies [today]. Tomorrow, this list might look completely different. Asking me to pick my favorite movie is like asking someone to pick their favorite child. I love them all, for different reasons, and in different ways. But today, this is the list I recommend:
SoldierMan laughs at me, but this probably is my favorite movie. Yes, it's a western, there are very few women, and yet it's a truly magnificent movie. (See what I did there?) I have probably watched this literally 100 times, and I never get tired of it! I wrote a pages-long review on my blog back in the day, and you're welcome to read it. Or, you can just watch it yourself and discover why this will always be on my Top 5 list.
Ask me which movie I can't live without, and it's this one. It's got it all - comedy, mystery, suspense, romance, action. Nick and Nora Charles are some of my most favorite characters ever. And Myrna Loy as Nora is one of my all-time favorite actresses. Watch and you'll see why. I promise you will love this one and want to watch it over and over, like I do.
3.
The Quiet Man (1952)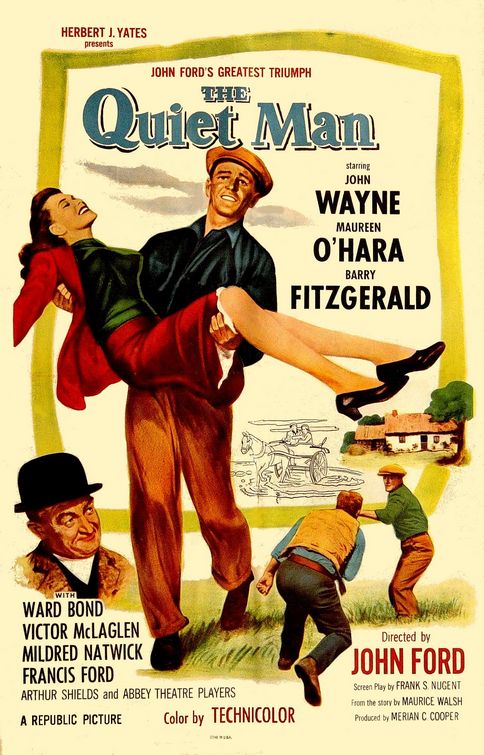 This is probably my favorite John Wayne movie, although I do love his westerns as well. This is kind of a chick flick - it's a straight-up rom-com with the timeless John Wayne-Maureen O'Hara stormy relationship. This is a great choice for your next girls' movie night.
The title is ironic. This is a real dramatic masterpiece about the plight of servicemen returning from WWII. It's also the only movie in history where the same actor won 2 Oscars for the same role in one film - WWII double amputee Harold Russell. This one is never erased from my DVR. It's another one I've probably seen 100 times and I never get tired of it. It's a really beautiful movie full of emotion.
L.O.V.E this musical. Yes, Robert Preston and Shirley Jones are fantastic. But the music itself is so good, and the lyrics are some of the best in musical theater. My personal favorite is "Trouble in River City." I'd love to perform it sometime, but I don't think it would sound as good from a woman. I can watch this one 12 times in a week and still enjoy singing along every time.
So there you have it. JG's must-watch classic movie list. Whether you DVR them, Netflix them or borrow them, you will be in for a treat.