I haven't had a TV Tuesday in forever, have I? Well, I think this calls for one.
The Amazing Race finale. I have to say, as far as finales go, this was one of the least stressful ones I have watched. My girls didn't win, sadly.
And yes, I picked them from the beginning. Sort of. I picked them as one of my favorites. Once I saw Claire take that watermelon to the face, I knew they were contenders. And yes, I wish they had won. But I recovered quickly because......
Jet and Cord are coming back!!!
Anyway, next season is a "favorites" season, where fan favorites who didn't win come back to compete again. And there's no question (at least if you go by facebook) that Jet and Cord had the biggest fan following in the history of the show.
In fact, if any of you remember from last season, I've been facebook-stalking Cord for a while now. Which makes me really surprised that he is on again because he's been a busy bee since that last season. Riding all over the country (he does rodeos) and just got married last month. So I don't know when they filmed this season, but I don't care. I'm excited :)
Yes, Brooke and Claire will be there as well, and the Globetrotters who I also loved, and Miss North Carolina who I loved, but sorry, Jet and Cord are my boys.
And of course, anything can happen when it comes to flight times or crappy cab drivers, but I really believe the boys can bring it home next season.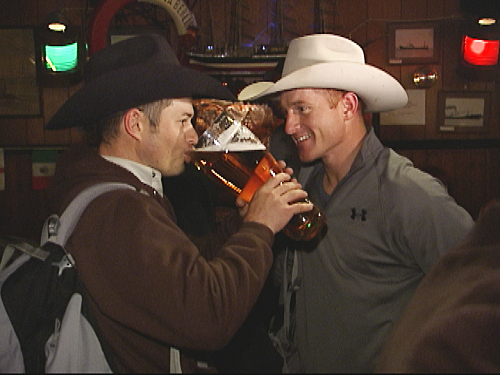 Oh my gravy! The cowboys are coming back!!
By the way, if you don't watch Amazing Race, you totally should. New season starts in February.